Greetings you wonderful SHREK backers, you!!
This is Kay again, your friendly neighborhood Dragon and production puppetmaster! Thank you SO, SO much for contributing to our indiegogo campaign over the past month. The $2000 raised is going to make this show a truly memorable & magical evening of theater. I know it gets said a lot, but we really, truly couldn't have made this happen without your support.
So I suppose now… it's time to get on with the promised PRODUCTION BLOG, isn't it?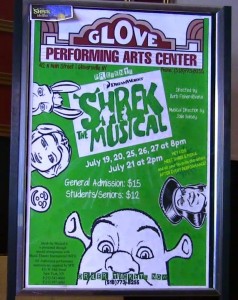 I guess the first thing I'll say is that right now our plan is to post 2-3 blog updates per week. Sound like a lot? Well, opening night IS only a month away (whoa!) and we have a LOT of great stuff to share with you between now and then! Don't worry. If you're too busy to log in and read an entry the day it's posted, you can always read the archive later. It'll be there. This blog has absolutely no time limit!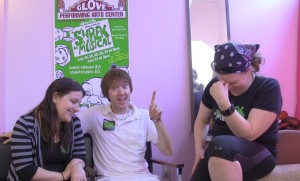 Even before the fundraising campaign clock reached zero, we were WELL under way creating content for you guys. I have already filmed numerous sitdown interviews with both cast AND crew. Donors at the basic level will have access to a transcript of each interview + pictures. Those who contributed $25 and above? You get the full video experience! (*insert trumpet fanfare here*)
So, STAY TUNED! There's a LOT more to come…
All My Dragony Love,
Kay
OH!
P.S. – The email that included your blog password already said this, but it's worth repeating: please, PLEASE don't share your password with people who haven't contributed funds to this show! All entries will become public after closing night, but until then, the Production Blog is meant to be something special for you, our backers!
P.P.S. – I also want to quickly mention something since I've been asked about this. After SHREK has opened on Friday, July 19th THERE WILL STILL BE BLOG UPDATES until closing night! So, don't touch that dial!
Comments
comments