[music]
An EXCLUSIVE behind the scenes video from the GLOVE Performing Arts Center and PacKay Productions
Meet… PacKay Productions!
"Oh, hey! Welcome to the PacKay Productions studio where we build all of our crazy and wacky characters, including the stuff for this July's Shrek: The Musical. Before I take you around and show you some of the work we're doing here, I just wanted to take a quick moment and say thank you so much for donating to the indiegogo campaign. I know that the economy is tight, but every single dollar means so much to us, and supporting the arts is a HUGE part of what PacKay Productions is all about, so… thankyou, thankyou, thankyou, I promise you will get your money's worth!
That said, it's time for me to show you some of the stuff around here. Let's go!"
Founded in 2012, PacKay Productions is a brand new company focused on fantastic family fun through puppet production and performance. Yeah, that's a mouthful.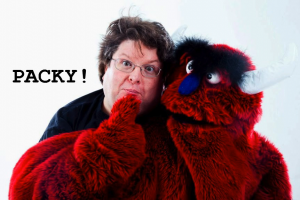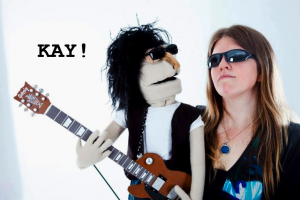 Let's make this simple: Packy + Kay = PacKay Productions! As a new company, we are absolutely thrilled to tackle the design challenges presented by a massive show like The Glove's production of Shrek. Each three-dimentional puppet created for this immense musical has been custom designed and built right here in the PacKay production studio. Everything has been done in-house: from sketch pad to sewing machine to paintbrush to finished product. Our idea is to create a puppet plot that echoes the famous characters without copying them lockstep… for, um… *ahem* legal reasons as much as creative ones.
In a time when computer-generated animation and digital media have become the industry standard, we feel it's both refreshing and quite important to be a company that focuses exclusively on the "old-school" way of doing things. When you bring your family to the show, you're immersing yourself in the fantasy, not just sitting back in a movie theater with a pair of funny glasses strapped to your face, attractive as they may be.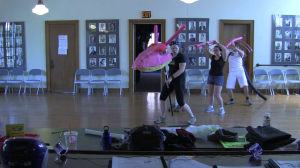 We hope you'll bring your whole family out for Shrek: The Musical, this July at the historic Glove Theater. Come see these puppets in action, plus some absolutely excellent performances from a truly talented cast. We'll be here, ready to whisk you off to the land of far-far-away… yes, adults, I'm talking to you, too.
Shrek: The Musical
— performances —
July 19, 20, 25, 26, 27 at 8PM
July 21 at 2PM
Tickets:
(518) 773-8255
Comments
comments