Barb: My name is Barb Fisher-Rivera, and I'm the director of Shrek: The Musical here at the Glove Theater in Gloversville, New York.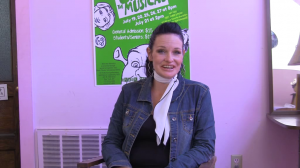 Another EXCLUSIVE behind the scenes video from
the GLOVE Performing Arts Center and PacKay Productions
Barb Fisher-Rivera
DIRECTOR
[clip of Barb directing the scene where the fairy-tale creatures arrive in the swamp]
 Barb: Shrek is near and dear to my heart. My son Jonathan, who is now twelve… he has Autism Spectrum Disorder and, truth be told, Shrek was the only thing he would watch for about two and a half years… he knew every word to the entire movie.  So, we really got a good taste of the movie version of Shrek.
At first, I was like, "Hmm. Shrek the Musical…" and I hadn't seen it at that point, so I said, "Well, what did they do? Did they use the music from the movie? Did they write new music?" So I started researching that. And then I saw it, and the minute I saw it, I fell in love with it: I thought it was brilliant.
[clip of music rehearsal for "Story of my Life" with Marc Christopher at the piano and Barb directing]
Barb: I mean, there's so many wonderful lines… I love how they pay homage to a lot of different shows, you know… Gypsy and Dreamgirls and Rent and Wicked and Lion King… and being a theater person—and anybody who's a "theater person" in the audience—is going to immediately recognize all those little things.
Kay: And love it on every level.
Barb: Yes, yes, absolutely!
[a clip of rehearsing "Travel Song" where the opening Zulu vocals from The Lion King's "The Circle of Life" are parodied]
Barb: We do have a couple of people that it's their first time on stage, and you'd never know it. You'd never know it.  We're halfway into our first month of rehearsal, and I find out that, one of our main characters, it's his first time on stage, and I was extremely taken aback because I was like, "You've got to be kidding me! Where did this come from?"  He's very natural, very natural.  And that excites me because I can't wait to see that person after doing five shows, you know?
[clip of Barb demonstrating to a novice actor how to "cheat out" by keeping one's body always facing the audience]
Barb: Just seeing the cast that we have… they're just amazing. They surprise me every rehearsal, and I don't say that lightly. I don't give compliments lightly. Just seeing them and how they deliver the lines, how they bring not only the "typical" character to their characters but also bring something from how they envision it and bring it to the table.  They're not afraid to try different things, so that is extremely exciting.
[various clips of rehearsals over audio of Marc Christopher singing "When Words Fail"]
Shrek: The Musical
– performances –
July 19, 20, 25, 26, 27 at 8PM
July 21 at 2PM
Tickets:
(518) 773-8255
Comments
comments