Roderick: I'm Roderick Halsey, and I play The Donkey!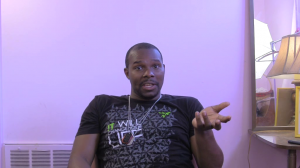 Another EXCLUSIVE behind the scenes video from
the GLOVE Performing Arts Center and PacKay Productions
Roderick Halsey as Donkey
[clip of "Why Me?"]
Kay: What are you discovering about Donkey as a character?
Roderick: He's very annoying.  Very ADHD and… don't tell my wife—she might say we have similarities.  Yeah, he's always seeking attention, especially Shrek's attention.
[clip of "Don't Let Me Go"]
Roderick: And he loves Dragon.
Kay: Gee… I think she loves him back.
[clip of Roderick kissing the Dragon puppet during rehearsal]
Kay: Now I've gotta clean it!
Roderick: I really like the… [imitates Aretha Franklin] "Come on BABY…"
Kay: As we lift every Motown song ever written…
Roderick: I believe Berry Gordy was somewhere behind this…
[clip of "Forever"]
Kay: This is also your first time on stage!
Roderick: Yeah, it is.
Kay: How's that felt?
Roderick: Um… man!  Like, nerve-wracking because I'm constantly, you know… everybody else is like, "I've got my lines", and they'll tell you I'm in the back with my book open like it's The Bible just talking to myself in the air… "Oh, my God, I've got to sing, and then, wait! After I get through singing, what's the next line that comes in? Oh, my God, what is it?"
For the record? When asked about Roderick's performance as a "newcomer" to theater, his costars said…
Marc Christopher (Shrek): Roderick! He is the coolest kid!
Genevieve Aldi (The Wicked Witch/Dragon's Wings): He is bloody hilarious!
Jenni Nicolella (The Sugar Plum Fairy/Gingy): Hilarious!
Barb Fisher-Rivera (The Director): He's absolutely amazing! I say "Be off book at this time" and he's off book at that time.
Marc: He comes here as a new… like a noob.  He's a big theater noob. But he really stepped up. He's got this character perfectly.  It's funny—he's a natural.
Jenni Nicolella: I tell everyone… I'm like, "Come see the play… not because of me, but because you will laugh your butt off!"
Yeah. You might say we love our Donkey. And we know you will, too.
[a series of rehearsal clips with memorable Donkey lines]
Roderick: Man! What is wrong with you!
Roderick: Oh!!! You both have layers!
Roderick: [screams]
[clip of the end of "Travelling Song"]
Shrek: The Musical
– performances –
July 19, 20, 25, 26, 27 at 8PM
July 21 at 2PM
Tickets:
(518) 773-8255
Comments
comments