Caralivia: Caralivia Levanti… and I'm Princess Fiona.
(Yet) Another EXCLUSIVE behind the scenes video from the GLOVE Performing Arts Center and PacKay Productions
Caralivia Levanti as Princess Fiona
Kay: So, I've been starting everyone off with the same question: tell me about you and Shrek…  well, not necessarily about you and Shrek in character yet…

Caralivia: [slyly] Me and Shrek… is that what you want to know?  Mmm-hmm…
Kay: Your background with it. Like… had you seen the movie?
Caralivia: I had seen the movie. Actually, in Mayfield, where I went to school, it was like "Oh, we have the day off? Let's watch Shrek."  Our Drama Club would see a show every summer, and the one I saw when I was graduating was Shrek: The Musical.  And it had Brian Darcy James and Sutton Foster… so I supped when "I Know it's Today" came out, like… [weeps]
[clip of "I Know it's Today"]
Caralivia: I feel like Fiona because she's been stuck in a room, like, a single room, for almost her entire life… I kinda relate to that because I've always just been a loner, doing art stuff, in my room, and just letting my imagination go wild. So when I'm actually in public, there's no filter… Fiona's very much the same way.  So when she finally gets out of the castle, she's like "WOOHOO!!!"  So she's kind of like, "This is how we do it by the book…" [cringes] Does not compute… [waves hands jerkily] She also does The Robot a lot in her room.
[clip of "This Is How A Dream Comes True"]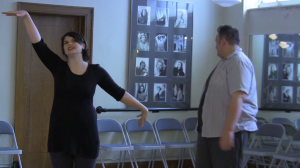 [Marc Christopher and Caralivia are sitting together]
Kay: What's it like working together, kids?  I know you've worked together before…
Marc: Well…
Kay: You can just give me the dirt. It's OK—noone's going to watch this.
[everyone laughs]
Marc: [burps]
Kay: Yeah, that's sexy… right there…
Caralivia: [burps]  I can't wait to be green, and have my big, bulbous nose, and then sing "This Is My Story". That's another one of my favorite moments.
[clip of "This Is My Story"] 
Shrek: The Musical
– performances –
July 19, 20, 25, 26, 27 at 8PM
July 21 at 2PM
Tickets:
(518) 773-8255
Comments
comments